North Carolina Golf Classic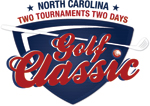 PS Charities is thrilled to announce the expansion of our annual NC Charity Golf Event! Due to the success we've had the last five years, we will host not one but two, back-to-back golf tournaments! Formerly known as the NC Charity Golf Tournament, this year's North Carolina Golf Classic, will be held at two of North Carolina's premier golf courses: North Shore Country Club and Porters Neck Country Club.
Following the tournament on the 19th there will be a barbeque dinner hosted at Gilligan's in Surf City, starting at 6:00 p.m. The BBQ will feature live music by Stephanie Quayle & Matt Bowlin, along with raffles and auction items!
100% of all proceeds raised will benefit the Military Appreciation Fund, Build a House Project!
Thank you to this year's sponsors:
About the Build a House Project
Started in 2011, The Build a House Project set out with one goal: to build a house for a wounded Marine and his family. After a year-long initiave of events and fundraisers, PSC was able to raise more than $100,000 for the family and is set to break ground this year.
Because of the tremedous support PSC receieved last year, we are doing it again! Held in partnership with Operation FINALLY HOME, 100% of all proceeds raised from the NC Classic will benefit a wounded veteran's family, building them a custom made, mortgage free home.