Biking for Boobies
For the third year in a row, Air Force Col (Ret) and PSC Volunteer, Matt McKeon will compete in his annual summer charity bike rides! This year Matt's summer rides will raise much needed funds for women undergoing breast cancer treatment at The GW MFA Breast Care Center. In Matt's three years of biking for a cause he has raised over $21,000 towards the fight against cancer!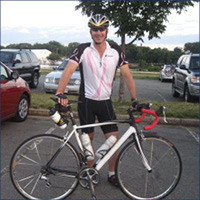 This year Matt has selected two cycling events: The National 24-Hour Challenge and the Total 200.
The National 24-Hour Challenge is a nationally recognized marathon cycling event that takes place annually in Michigan over Father's Day Weekend. The object of the event is to ride as many miles as possible in 24 hours. There are more than 20 age brackets and over 1,000 riders participate each year. The route consists of a 121-mile loop, followed by a 23-mile loop, followed by an 8-mile night loop that riders repeat until the 24-hours expire.
The Total 200 is a 200 mile cycling event from Washington DC to the southern tip of Maryland at Solomon's Island and back to Washington DC, all in one day. This is a grueling ride featuring tough hills and extremely hot/humid riding conditions.
100% of the proceeds from both races will benefit the PSC Cancer Support Fund in support of the The GW MFA Breast Care Center.
---